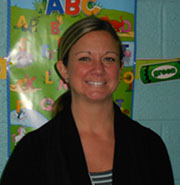 Becky Brady is the Preschool Director and Lead Teacher for both the 3/4's and the 4/5's classes.  She is an experienced cooperative teacher having been with preschool for 10 years, as well as 4 years during her own children's education.  She holds a Bachelor of Arts degree from Madonna University.   In addition to teaching Preschool, Becky has taught in both Kindergarten and First Grade classrooms.  She believes deeply in the co-op philosophy and feels there is no better gift to give to a young child than that of time from a parent.  Being involved in the beginning steps of education is rewarding and creates lifelong connections for both students and parents.
She establishes a classroom that is as fun and educational as possible which she creates through play!  Using the play-based model for preschool, students are able to gain valuable knowledge without being aware teaching is occurring!  We focus on helping with parent separation, socialization and sharing in the 3/4's class, in addition to color and shape identification, counting and recognizing one's own name.  In the 4/5's class, she reinforces the lessons learned in the younger class and adds taking turns, learning empathy to others, sequencing, counting to 100, letter recognition, both uppercase and lowercase, writing letters and numbers, beginning reading readiness and much much more!
Our program is designed with the child in mind, with themes and lessons that are important to them.  We use gross motors, fine motors, large and small muscle groups.  We sing, dance, do yoga, play games and make art.  We learn about math, science, literature, dinosaurs, space, animals and nature, to name a few.  Through these lessons your child's knowledge and confidence will grow.
Laura Christian is the Assistant Teacher and the Art Director for both the 3/4's and the 4/5's classes. She is an experienced cooperative teacher having been with Preschool for 20 years. She holds a Bachelor of Fine Arts Degree and a Masters Degree in Art Education from Wayne State University.
She is passionate about making your child's experiences with art and materials as fun and educational as possible! She will guide your student through art basics from finger painting and playdoh and on to more advanced materials including pastels, mosaics, and papier mâché, all while nurturing the individual and their unique creativity. She incorporates real artists into the classroom with the students, getting to know Van Gough, Matisse, Pollack and others. Laura's excitement brings materials and projects to life in a way that makes the children interested and unafraid to explore their creative side.
We at Grosse Pointe Cooperative Preschool believe that play based learning is what is developmentally appropriate for early childhood education and experience-based art is a key element. The art program addresses the children's needs creatively as well as developmentally. We use gross motors, fine motors, we cross the midline. We touch sticky, slimy, smooth and everything in between. We learn about shapes and colors, as well as work on proper letter and number formation. Through these practices your child gains strengths and confidences which will continue to increase. These types of early experiences often lead to better handwriting skills, math comprehension and scientific exploration. By nurturing a child's curiosity and creativity now, we ensure a bright future for us all!
Contact us to come and see what the Grosse Pointe Co-Op Preschool has to offer and meet Mrs. Brady and Mrs. Christian!